Weekly News Brief | May 7, 2021
From the Office of Chancellor John Weispfenning, Ph.D.

Starting in today's newsletter, you will see profiles on Asian American and Pacific Islander members of the Coast District for AAPI Heritage Month. This is a time to lift up and celebrate the voices of our AAPI friends and colleagues.
In condemning the recent tide of anti-Asian racism, the Board of Trustees committed to extend support for "equitable access to education, financial aid, housing and food resources, health services and advice, and other fundamental resources necessary for the resiliency of all our communities." That is a mandate shared by everyone in the Coast District.
In further keeping with this shared mandate, my appreciation to those who worked across the three colleges to create and deliver programs for the Coast District Black Student Success Week. A particular shout out to Avery Caldwell, Dr. Susana Castellanos-Gaona, Dr. Dana Emerson, Leighia Fleming, Maricela Sandoval, and Logan Shreve.
Colleagues from all three Colleges jointly assembled sessions ranging from collective responsibility to the individual power of championship and resiliency. These are the lessons that we and our students need if we are to bring meaningful change.
As we work together to bring even greater attention to diversity, equity, and inclusion offerings throughout the year, I again thank all those who have stepped up to lead consequential dialogues.
Be well,
John
John Weispfenning, Ph.D.
Chancellor
---
COVID-19 Frequently Asked Questions Update
What is the process for reporting a suspected case of the virus?
All students, faculty, classified and confidential staff, and management are encouraged to be aware and direct about their own health – regardless of vaccination status. If you have new and unexplained fever or chills, cough, shortness of breath, other breathing difficulties, fatigue, stomach illness, loss of smell or taste, or other feelings of being unwell, you should notify your dean (faculty) or supervisor (staff/management). Students may choose to notify the Health Center or inform a trusted individual who will notify the Health Center and President's Office. For employees, the initial point of contact (dean or supervisor) is responsible for notifying HR. Your point of contact and HR will reach out to you as needed for follow up. If you are feeling unwell, do not come to campus or visit a District site for any reason. Report to your dean or supervisor by phone or email.
Additional questions and answers can be found on the Coast District COVID-19 Information Website.
Report from the Board of Trustees

On Wednesday, May 5, the Board of Trustees met in regular session and unanimously named Vice President of Instruction Vince Rodriguez as the next president of Coastline College, to begin July 1, 2021, following the retirement of President Lori Adrian. Trustees offered congratulations and words of support for Dr. Rodriguez.
Chancellor Weispfenning reviewed progress on districtwide goals set for the year. The chancellor noted the quick transition to distance learning and remote work, a continued focus on student success and equity, significant inflows of one-time funding from state and federal programs, new programs, and enhanced recruitment and retention efforts.
Dr. Weispfenning acknowledged that the COVID-19 pandemic created unique and unprecedented challenges districtwide. He lauded collective efforts to adapt and noted the District Consultation Council has begun conversations on a "Beyond the Blueprint" plan for bringing staff and managers back to the campus and district office in a thoughtful, phased approach, beginning this summer.
The Board adopted a resolution proclaiming the week beginning May 16, 2021, as Classified Employees Appreciation Week in the Coast District. Trustees also received reports of presidents and participatory governance groups, while sharing their own reports of activities in the District and beyond.
Trustees adjourned in the memory of Phyllis Basile, retired from Orange Coast College, in addition to Gil Gerakos and Ron Bruce, friends of the Coast District.
Dr. Vince Rodriguez Named as the
Next President of Coastline College

Dr. Vince Rodriguez has been named the next president of Coastline College by the Coast Community College District Board of Trustees. Rodriguez will succeed the retiring president, Dr. Lorretta Adrian, on July 1, 2021.
"I am honored to follow President Adrian in this position of trust and responsibility in advancing the future of a welcoming college for all members of our communities," Rodriguez said. "Coastline College embraces its dual mission of access and innovation, while we prepare for new and exciting approaches for serving students."
Rodriguez served in the leadership of Coastline College for 23 years, beginning as the lead staff member in the distance learning department and working his way to the role of vice president for instruction. This put Rodriguez in a prime position to influence many of the policy decisions that will become his responsibility as president.
Celebrating AAPI Heritage

The Coast District is proud to celebrate Asian American and Pacific Islander Month and the contributions of AAPI leaders districtwide. Leadership is demonstrated in multiple ways by students, faculty, classified and confidential staff, and management.
Legacy of Drive and Determination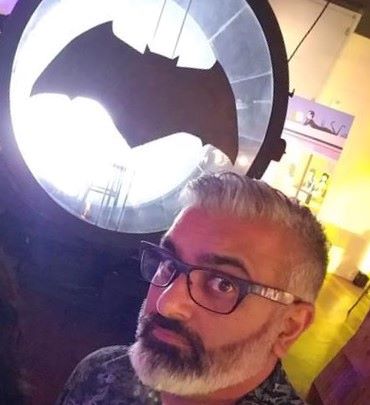 Today's featured profile is Minesh Lakhani, IT User Support Analyst for the District, in his own words.
How has your heritage shaped the person you are today?
Being South Asian and the child of refugee immigrants, I have a great appreciation for everything I have and work for. Understanding the struggles and the hardships my parents went through to bring their family here and to focus on providing a better life for their family gives me a sense of great pride and honor to be able to continue on that legacy of drive and determination for myself and future generations. I use those traits and my cultural awareness to contribute what I can to the diversity and inclusion that makes living and working here so wonderful.
Who are your role models?
This may sound cliché, but in all honesty, it would be my parents. They started their life a new each time they moved to a new country. First as refugees to England from Africa and again as seekers of the 'American Dream' here in the USA. At the same age I am now, they hit the reset button on their lives and started from the bottom working to provide the best lives possible for us. They worked tirelessly, day in and day out, to give the absolute best for their children and succeeded more than I could ever imagine someone in their situation ever doing so. Their drive and perseverance motivates me daily to do better, to be better. They serve as a prime example and definition of what a Role Model should be.
What brings you joy?
Comics, movies, video games, family, friends, and just being an all around nerd.
Please follow the Coast District's Facebook, Twitter, and Instagram channels to see new profiles throughout the month.
And join with education professionals from across Orange County for a virtual forum on May 12 to honor Asian American and Pacific Islander Heritage Month. The Orange County Department of Education forum is free for those who register.
College News
COASTLINE COLLEGE

Coastline College is recognizing Mental Health Month by hosting virtual open Q&A sessions. The sessions will be held throughout the month of May in conjunction with Coastline's Student Mental Health Services. Zoom links for the sessions can be found here.

GOLDEN WEST COLLEGE

Golden West College will be hosting their First Annual Puente Empowerment Conference on Wednesday, May 12. The virtual conference will present testimonials from eight Latinx students as they navigate through college. There will be four sessions that will go into the students' experiences as first-generation college students to plans after college.

ORANGE COAST COLLEGE

Orange Coast College photography professor Richard Kraft has been awarded a Guggenheim Fellowship – which supports "exceptional individuals in pursuit of scholarship in any field of knowledge and creation in any art form, under the freest possible conditions." Kraft is the only full-time community college professor to be awarded the prestigious fellowship in 2021.
publicaffairs@cccd.edu