Weekly News Brief | May 28, 2021
From the Office of Chancellor John Weispfenning, Ph.D.

With opportunities to watch and join celebrations conferring degrees and certificates, presenting honors, and awarding scholarships, this is a truly inspiring time of year.
One of the celebrations that always inspires me is the Coastline College Acquired Brain Injury (ABI) Graduation and Awards Ceremony. The honest testimonies of the speakers are truly overpowering. Their strength is displayed in telling their stories – the low moments, the small triumphs, and the eventual growth that the program helps them find.
Our Coastline ABI instructors join faculty and staff from all three colleges in wishing a fond farewell at the ending of one of life's chapters and the beginning of the next. My thanks to everyone at Coastline, Golden West, and Orange Coast for making this a special moment for our graduates across all programs.
In my recorded remarks for the Class of 2021 commencements, I shared this thought with graduates: "Today you are living history. You have overcome some of the greatest hurdles faced by students in modern times. Still you persevered, you achieved your goal, and now you mark a new beginning."
We all share in perseverance and achievement with our students and recent graduates. Now it is for us to renew and redefine the Coast District for the next class and the next generation of students. That is the power of commencement, it is an end that is also the beginning.
I wish those going on break for the summer a well-earned time for rest, recharge, and rediscovery. For those continuing through the summer, please enjoy your Memorial Day weekend.
Be well,
John
John Weispfenning, Ph.D.
Chancellor
---
COVID-19 Frequently Asked Questions Update
What is the District doing to ensure compliance with state guidelines on building ventilation?
The District is pursuing a contract with Envise, a building management consultant, to conduct a districtwide mechanical engineering assessment including a verification of ventilation rates of our occupied buildings. The results of the assessment and any corrective measures will be validated by an independent Certified Industrial Hygienist to ensure our compliance with CDC's Ventilation standards for COVID-19 prevention.
Additional questions and answers can be found on the Coast District COVID-19 Information Website.
Celebrating AAPI Heritage

The Coast District is proud to celebrate Asian American and Pacific Islander Month and the contributions of AAPI leaders districtwide. Leadership is demonstrated in multiple ways by students, faculty, classified and confidential staff, and management.
Profound Respect and Gratitude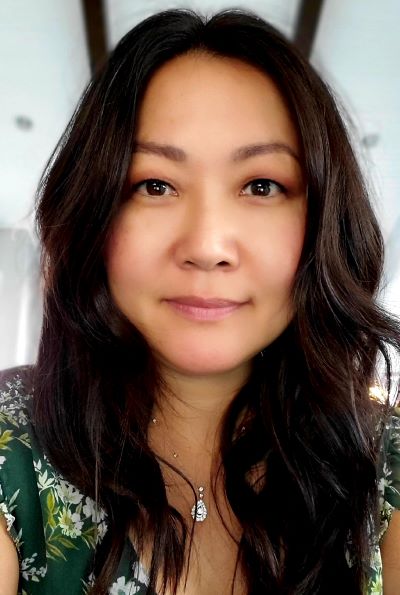 Today's featured profile is Claudia Lee, Vice President of Student Services at Golden West College, in her own words.
How has your heritage shaped the person you are today?
My Korean heritage has helped shape who I am today by instilling core values, such as respect, hard work, and honesty. My parents moved to America so my sisters and I could have access to education and opportunities. I focused on school as a way of honoring my parents for the sacrifices they made on my behalf. I have a profound respect for them and will forever be grateful.
What brings you joy?
My children, Jonah and Mollie, bring me JOY. Watching them grow, learn, and explore the world fills my heart. They were both adopted from Korea as toddlers, so it's important to me that I teach them about their culture and heritage and that they're proud of who they are and where they came from.
Please follow the Coast District's Facebook, Twitter, and Instagram channels to see new profiles throughout the month.
College News
COASTLINE COLLEGE

Coastline College's virtual Commencement Ceremony will be held Friday, June 4, at 4 p.m.

Coastline is sharing stories of their graduates as they count down to graduation. Military student, Jakeila Owens, has earned her associate's in Supervision & Management. After graduating, Jakeila plans to deliver a healthy baby boy this June and transfer to Saint Leo University for a bachelor's in Business Administration or Human Resources, all while finishing her military obligations. Congratulations Jakeila!

GOLDEN WEST COLLEGE

Today, May 28, from 11:00 a.m. to 1:00 p.m., Golden West College will hold its 2021 Grad Parade. Commencement was held virtually on Thursday, May 27.

Additionally, Associate Dean/Director of the Regional Criminal Justice Training Center Tim Vu was interviewed earlier this week as an expert in police training reform on NPR's Los Angeles station, KPCC. The feature was part of Take Two's coverage of the one-year anniversary of the death of George Floyd.

Also featured on the Take Two program was Coast District Foundation Board of Directors Vice Chair Maricela Rios-Faust, in her role as chief executive officer of Human Options – a non-profit organization dedicated to ending the cycle of relationship violence. Rios-Faust lent her expertise to the discussion about the intersection of relationship violence and homelessness.

ORANGE COAST COLLEGE

Orange Coast College's virtual Commencement Ceremony will take place today, May 28, on YouTube Live at 5 p.m.

Additionally, Orange Coast College has been named one of 27 Centers of Excellence for Domestic Maritime Workforce Training and Education for 2021 by the United States Department of Transportation's Maritime Administration. The announcement comes on the heels of the Coast District Board of Trustees renaming OCC's Newport Beach facility as The Orange Coast College Waterfront Campus.
Zoom Unavailable on June 8

On June 7, 2021, the District will undergo a transition – completed on June 8 – to a district-managed Zoom Pro account. Migration of existing accounts will begin on Monday, June 7, at 9:00 p.m. and is scheduled to conclude on Tuesday, June 8, at 4:00 p.m. Zoom accounts will not be available during the migration.
For users, outside of the Canvas learning management system setting, Zoom hosting and scheduling processes will be largely unchanged by the transition. Post transition, faculty and students will benefit from increased functionality between Canvas and Zoom. Within the Canvas environment, faculty are requested to avoid scheduling new Zoom meetings for June 8, 2021, or later until the transition is completed. Additional resources and training will be provided for all users
Additional migration information is available on the CCCD Zoom resource page.
Schedule, Week of May 31
Monday, May 31, is the observance of Memorial Day. District and College operations will resume the following day, Tuesday, June 1.
Chancellor's Schedule
In the District: Tuesday through Friday
publicaffairs@cccd.edu