Weekly News Brief | June 4, 2021
From the Office of Chancellor John Weispfenning, Ph.D.

Today, we celebrate the last of our Class of 2021 Commencements. The virtual ceremony by Coastline College will join Golden West College and Orange Coast College in closing out this unique year.
Part of what I enjoy in each celebration is the vast diversity in who crosses the literal or metaphorical stage. Graduating together with students born and raised in Orange County are peers from throughout the U.S. as well as those who started life's journey in countless other nations.
Our international and out-of-state students have endured a great deal this year to complete their programs, and for others the story involves family decisions to uproot and relocate perhaps recently or perhaps decades ago. This is a testament to a higher education system that is a crossroads of many paths.
In our graduates is the promise of a shared future with new approaches and choices that benefit our local communities and the entire planet. The Coast District is educating new leaders who will have a global reach – as is fitting for our communities' worldwide economic and social influence.
This month we also celebrate our LGBTQ+ recent graduates alongside all LGBTQ+ alumni, students, faculty, classified and confidential staff, and management. Great power follows from finding a person's authentic self. That too is part of life's journey and something where we – as educators and education professionals – are privileged to travel alongside offering guidance as needed.
Walking across that metaphorical stage are individuals on amazing journeys who will forge a better path because of the time they spent with you.
Be well,
John
John Weispfenning, Ph.D.
Chancellor
---
In lieu of the COVID-19 update this week, please take note of the story below and be sure to avoid scheduling Zoom meetings on Tuesday, June 8.
Zoom Unavailable on June 8

On June 7, 2021, the District will undergo a transition – completed on June 8 – to a district-managed Zoom Pro account. Migration of existing accounts will begin on Monday, June 7, at 9:00 p.m. and is scheduled to conclude on Tuesday, June 8, at 4:00 p.m. Zoom accounts will not be available during the migration.
For users, outside of the Canvas learning management system setting, Zoom hosting and scheduling processes will be largely unchanged by the transition. Post transition, faculty and students will benefit from increased functionality between Canvas and Zoom. Within the Canvas environment, faculty are requested to avoid scheduling new Zoom meetings for June 8, 2021, or later until the transition is completed. Additional resources and training will be provided for all users
Additional migration information is available on the CCCD Zoom resource page.
Celebrating LGBTQ+ Pride

The Coast District is proud to celebrate the contributions of LGBTQ+ leaders districtwide. Leadership is demonstrated in multiple ways by students, faculty, classified and confidential staff, and management.
Preparing for the Work Left to Do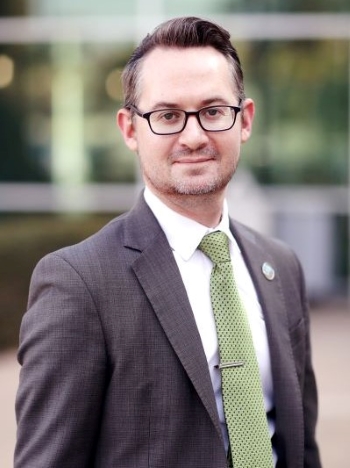 Today's words of celebration are from Erik Fallis, District Director of Public Affairs and Marketing & Executive Director of the Coast District Foundation.
What does LGBTQ+ Pride Month mean to you?
Pride celebrations and LGBTQ+ centers are places to find joy through belonging. It's about seeing the good in one's own truth while encouraging others to do the same. Building on a legacy of queer people through the decades, we celebrate how far we have come as a community and society. We also prepare for the work left to do.
Who are your role models?
One of my role models and mentors is Chani Beeman, a person confident in herself in a way that brings confidence into the lives of others. Chani was an IT administrator at the time I met her and retired as director of diversity, equity, and inclusion for Riverside Community College. Chani helped me recognize the defense mechanisms of my youth and focus that energy into more productive channels. She was always an advocate for students – in both loud and quiet ways – and she taught us how to be our own advocates. Chani is my model for becoming an out professional, an out advocate, and a truly joyous person.
Please follow the Coast District's Facebook, Twitter, and Instagram channels to see new profiles throughout the month.
Want to add your voice to the celebration of LGBTQ+ Pride Month? Complete your profile here.
College News
COASTLINE COLLEGE

Coastline College's virtual Commencement Ceremony will be held today, June 4, at 4 p.m.

Coastline will stream the commencement on YouTube. The College created promos in English, Spanish, and Vietnamese, while continuing to share profiles of graduates on social media.

GOLDEN WEST COLLEGE

Golden West College hosted its 2021 virtual commencement ceremony, available on YouTube. "Your success today is also our success," GWC President McGrath said. "Despite the instability that has challenged all of us in ways we never imagined, our celebration today is proof that you know how to push through even the biggest challenges to accomplish your goals." This year, Golden West awarded 4,463 Associate degrees and 2,307 certificates. 2021's graduating class had 49 international students representing six different countries, and 337 students who received a cumulative grade point average of 3.5 or higher.

Golden West College continued celebration of its graduates with a Grad Parade held on the Huntington Beach campus on May 28. With safety measures in place, music and cheering greeted the graduates as they drove through the parade route to pick up their graduation swag and have cap and gown photos taken. Thanks to the faculty and staff volunteers that made this a joyous occasion.

ORANGE COAST COLLEGE

Orange Coast College's virtual Commencement Ceremony is also available on YouTube. The College celebrates the Class of 2021 and honors the hard work that went into the more than 5,000 degrees and certificates being awarded. Included within the program is the partnership between Second Harvest Food Bank and OCC's Pirate's Cove to meet the basic needs of students during the pandemic. Trustee Moreno officially extended OCC Community Partner of the Year recognition to Second Harvest during the ceremony.

Additionally, Orange Coast College transfer student Thien Nguyen was notified in early May that she is a recipient of the prestigious Cooke Undergraduate Transfer Scholarship for 2021. A total of 72 scholarship recipients were chosen by the Jack Kent Cooke Foundation from more than 1,300 applicants representing 370 community colleges across the United States. The highly competitive national transfer scholarship provides selected students with up to $40,000 a year to complete their bachelor's degrees, as well as additional funds for graduate school.
Schedule, Week of June 7
Chancellor's Schedule
Dr. Weispfenning in the District, Monday and Tuesday
Dr. Andreea Serban acting chancellor, Wednesday through Friday
publicaffairs@cccd.edu