Weekly News Brief | July 2, 2021
From the Office of Chancellor John Weispfenning, Ph.D.

It is my hope that everyone enjoys their Fourth of July, Independence Day weekend. For many, this will be the first time gathering with vaccinated friends, family, and loved ones so far from us this past year. My best wishes to all of you in closing the distance.
If we can continue to make progress on vaccination rates, this summer and fall promise to be seasons of growing normalcy. Campus life will return, gradually, as more students, faculty, classified and confidential staff, and administrators return to our shared spaces.
Travel is also likely to return, both personal and professional. While we have shown that much is possible through online gatherings, it is still important to make professional connections in person in an environment of shared learning.
As we plan for professional travel, and you consider submitting travel requests, I encourage you to be aware of changing COVID-19 precautions in California and destination states in addition to being good stewards of our public funding.
Next week, we will take a short break in publishing the News Brief as Coast District campuses and offices are closed on July 5th. Please enjoy the three-day weekend and be safe in any holiday travels.
Be well,
John
John Weispfenning, Ph.D.
Chancellor
---
Are travel requests being accepted and what precautions are required?
Yes. Travel requests are being accepted and considered, particularly for travel later in the year. Fully vaccinated travelers are not required to test or quarantine before or after travel. If an employee opts not to get vaccinated, they will need to test and quarantine following travel according to the current CDPH Travel Guidelines. Please always wear a face covering when using public transportation. Additionally, please review and be aware of the guidelines of destination states.
Additional questions and answers can be found on the Coast District COVID-19 Information Website.
Draft Hazard Mitigation Plan

The Coast Community College District is in the process of revising their 2015 Hazard Mitigation Plan and would like to invite the District community to review the draft plan online and/or attend one of two online public meetings. Two public meetings will be held to address any questions, concerns, or ideas regarding the revision of the Hazard Mitigation Plan. The Draft DHMP will be posted online June 28 through July 26 for a 30-day public review and comment period. The draft DHMP is available to the public via the District's Risk Management page. This site also contains an email address and phone number for Kris Cutting, Orange Coast College's Emergency Response Coordinator, to which people can direct their comments and concerns.
Celebrating LGBTQ+ Pride

The Coast District is proud to celebrate the contributions of LGBTQ+ leaders districtwide. Leadership is demonstrated in multiple ways by students, faculty, classified and confidential staff, and management.
Heroic, Challenging, and Essential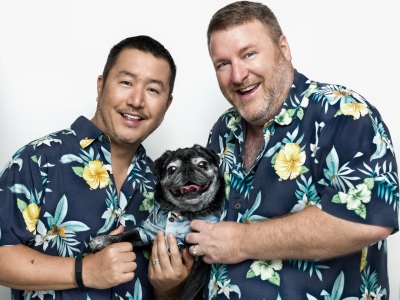 Today's words of celebration are from Kevin Henson, Dean of Social and Behavioral Sciences at Orange Coast College (on the right of the image with his husband Toshiro to the left).
What would you tell your past self about the journey you've been on to get to where you are today?
I began my own journey in education more than thirty years ago as a first-generation, undeclared undergraduate student at Michigan State University. Since that time, I completed advanced training at Northwestern University (graduate school) and the University of California-Los Angeles (Post-Doctoral Fellow). My faculty teaching career included a visiting position at Bowdoin College in Maine and a tenured sociology faculty line at Loyola University Chicago. Currently, I am the Dean of Social and Behavioral Sciences at Orange Coast College in Costa Mesa, California. While coming out in the 1980s wasn't easy, I am thrilled with the progress for equality achieved in my lifetime! On June 20th, 2015, I married my husband, Toshiro, in our backyard in San Francisco in front of our friends and family. Six days later on June 26th, 2015, the U.S. Supreme Court in Obergefell vs. Hodges established same-sex marriage in all states and territories.
What contribution by the LGBTQ+ community are you most proud of?
Beginning in the 1980s as the AIDS pandemic (the first pandemic of my lifetime) decimated our communities, LGBTQ people organized networks of care and activism in the face of national political indifference. Heroic, challenging, and essential work.
Please follow the Coast District's Facebook, Twitter, and Instagram channels to see past profiles from throughout the month.
College News
GOLDEN WEST COLLEGE

Golden West College is now accepting applications for GWC Student Ambassadors. Duties will include: Ambassador training; communication with GWC students via email, phone, text; workshop assistance; campus referrals for student support; develop creative recruitment strategies; and team building and support activities. Applications are due by 5:00 pm on Friday, July 9. Only selected applicants will be contacted.
Schedule, Week of July 5
Chancellor's Schedule
Monday is the Independence Day holiday observance
Dr. Marco Baeza is acting chancellor, Tuesday and Wednesday
Dr. Weispfenning is in the District, Thursday and Friday
Schedule, Week of July 12
Chancellor's Schedule
In the District, Monday through Friday
publicaffairs@cccd.edu