Weekly News Brief | September 24, 2021
From the Office of Chancellor John Weispfenning, Ph.D.

Looking ahead, October 4 was tentatively planned to be the day we opened our departments and offices four days per week, an increase from the current two days per week. This change would better meet student needs, but would affect most of our classified staff and management alongside some faculty. After hearing from the District Consultation Council, the College Presidents, and others, the Coast District will maintain the current two-day-per-week schedule through October 15. We are exploring the possibility of a three-day-per-week schedule starting October 18 – while keeping the current limit of 50 percent of office capacity. Each of these decisions is being made based on the spread of COVID-19, vaccination rates, and the safety and welfare of our employees and students – all balanced against our mission of educating the residents of the Coast District.
With this next step in mind, and as we prepared to officially open the Orange Coast College Professional Mariner Training Center today, I've had reason to pause and contemplate on why we need a physical educational presence. We certainly have achieved much online despite the hurdles encountered. Yet, we know that many have delayed or paused their education journey to avoid online learning. We also know many programs, the Professional Mariner program being a prime example, simply cannot provide the hands-on experience necessary without some in-person presence.
If we look critically, I believe we would see many examples of how being together in person enhances educational richness of the student experience. Those attending primarily online by choice often still benefit from in-person engagement, whether it's seeking basic needs support or making a social connection. The depth of service and experience that comes from our physical settings are valued and valuable.
This is part of the balance we are seeking in a gradual reopening of our facilities. We know that online lacks a certain appeal for some students and lacks full utility for others. We also know that historically underserved and first-generation students are disproportionately disadvantaged when we remove layers of engagement and support.
Our District was proudly online and in-person prior to the pandemic. We will confidently maintain our blended offerings to meet our community and students where they need us. The steps we are taking to add protection for you and your families – the mask mandate, vaccine mandate, testing protocols, and social distancing – are to give us confidence as we move in a measured way back into our beautiful buildings, including our newest additions.
Be well,
John
John Weispfenning, Ph.D.
Chancellor
Report from the Board of Trustees

On Wednesday, September 22, the Board of Trustees met in regular session and heard from Tim Vu, Associate Dean and Director of the Regional Criminal Justice Center. Associate Dean Vu described the 1000 hours of training provided to officers, including cultural awareness and implicit bias training. Trustees expressed interest in the inclusion of training on de-escalation and responding to mental health needs, areas the center has prioritized for training.
Vice Chancellor Andy Dunn provided the Measure M Quarterly Report. With the majority of building completed, funds from the Measure M bond are fully committed to the remaining projects. Vice Chancellor Marco Baeza provided the Annual Equity and Diversity Hiring Report, including developing a protocol for a DEI focused exit interview to help address issues affecting retention.
Internal Auditor Rachel Snell provided an Internal Audit Quarterly Report, highlighting collegial efforts to address challenging topics districtwide. Public Affairs and Marketing Director Erik Fallis presented the Accolades and Accomplishments Report, celebrating the many collective and individual efforts of all three Colleges and the District Office. Trustees lauded the impressive work happening across all areas, even as the campuses appeared to be quiet during the pandemic.
Trustees adjourned in the memory of Orange Coast College graduate and former Community College League of California Executive Director Scott Lay, former OCC faculty member and founder of the OCC film department Brian "Lewy" Louis, retiree from OCC Human Resources Judy Lindsay, former OCC faculty members Jack and Barbara Price, Coastline College faculty member Reema Zoumat, OCC student Brian Sean McHugh, and Coastline student Thoi Vuong. Trustees expressed their sadness for departed friends, colleagues, and students.
Celebrating Hispanic Heritage

The Coast District is proud to celebrate the contributions of Hispanic and Latinx leaders districtwide. Leadership is demonstrated in multiple ways by students, faculty, classified and confidential staff, and management.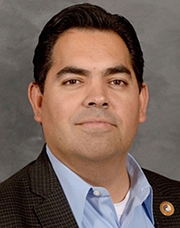 The Fabric of Our Communities
Today's words of celebration are from Juan Gutierrez, Director of Marketing & Public Relations at Orange Coast College.
What does National Hispanic Heritage Month mean to you?
To me, National Hispanic Heritage Month is a time to celebrate the contributions of our rich culture to the fabric of America. Being in Southern California, Latinos and the Latino culture has influenced almost every aspect of everyday life. From music, food and fashion to education and government, Latinos continue to be a force in our communities.
How has your heritage shaped the person you are today?
I believe that my heritage has allowed me to see things in many different ways and empathize with other cultures much more easily. Being born in the United States as a first-generation Latino in America, I have had the benefit of being from two worlds. It has taught me to understand and celebrate the differences and similarities of culture, family and success.
Schedule, Week of September 27
Chancellor's Schedule
In the District, Monday through Friday
publicaffairs@cccd.edu