Weekly News Brief | October 1, 2021
From the Office of Chancellor John Weispfenning, Ph.D.

October is Domestic Violence Awareness Month. Domestic, intimate-partner, or relationship violence is not contained to any gender, sexuality, age, or community. Especially during the times of social isolation, it can be difficult for those in vulnerable positions to safely reach out for help. We all need to be vigilant for signs that a student or colleague is in distress and possibly in a dangerous situation.
Below you will find information on various programs related to healing for survivors, empowerment through self-defense, on-campus resources, and bystander intervention. It is the responsibility of each of us to engage when we see a dangerous situation emerging. For survivors, our shared work must be that of support and healing.
Violence is often intended to take power away from the victim. Among our students and colleagues are many survivors who have reclaimed power in their lives. We honor their journey by doing better. Whether we are in person or at a distance, awareness and prevention are our shared responsibility.
Be well,
John
John Weispfenning, Ph.D.
Chancellor
---
Domestic Violence Awareness Month: The Coast District Title IX offices have collaborated to provide programming throughout the month of October. Details are available here.
College and District News
COASTLINE COLLEGE

Coastline College, in partnership with districtwide efforts, will be hosting various workshops and activities throughout the month of October to bring light to Domestic Violence Awareness Month. The intention and goal of these events are to help break the cycle of silence around domestic violence. All are encouraged and welcome to get involved and be a part of the conversation.

GOLDEN WEST COLLEGE

Golden West College's Theater Arts department has announced its cast for Little Shop of Horrors, directed and choreographed by Martie Ramm. Whitney Ackerman and Rebecca Thomas star in the department's production of the Broadway musical Little Shop of Horrors presented live with a live orchestra October 8 through 17. Tickets are now available.

ORANGE COAST COLLEGE

Orange Coast College officially opened the doors of its brand-new Professional Mariner Training Center with a ribbon cutting ceremony on Friday, September 24. The new building is two stories tall, and includes classroom and laboratory space, a radar training room, conference room, student lounge, a Full Mission Bridge simulator, and a raised pedestrian walkway connecting the facilities of the OCC Waterfront Campus. The $22 million project was funded through Measure M, a bond measure passed by voters in 2012.

In the News:

Orange Coast College christens new mariner training facility (Orange County Register)

Orange Coast College's Professional Mariner Training Center open for business (Daily Pilot)

DISTRICT OFFICE

The District Office Employee of the Year nominees – Mike Ramirez and Rachel Duhamel – and awardee Minesh Lakhani were recognized in a virtual celebration on Monday, September 27. Lakhani is an IT Business Process Analyst, frequently seen assisting the Board of Trustees as well as various districtwide meetings, activities, and projects. Trustees, the Chancellor, Vice Chancellors, and colleagues lauded Lakhani, the nominees, and the classified employees of the Coast District. Each spoke to accomplishments made possible through the support of staff and managers in the District Office.



Celebrating Hispanic Heritage

The Coast District is proud to celebrate the contributions of Hispanic and Latinx leaders districtwide. Leadership is demonstrated in multiple ways by students, faculty, classified and confidential staff, and management.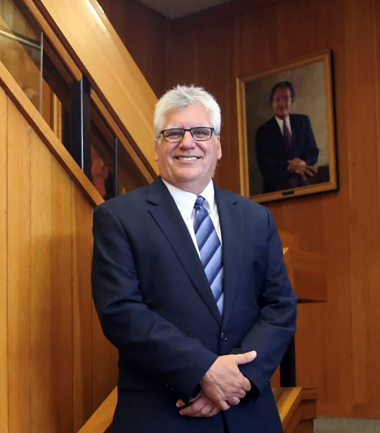 Honoring Our Ancestors Through Advocacy
Today's words of celebration are from Vince Rodriguez, President of Coastline College.
What does National Hispanic Heritage Month mean to you?
Hispanic Heritage Month is an opportunity to honor and remember so many people who fought against racism and discrimination. It is a time to honor my ancestors who experienced many struggles to get to the United States so that their children and grand kids would have a better life.
How has your heritage shaped the person you are today?
I know the struggles that my grandparents experienced to come to the United States. They experienced racism in their daily lives. Even my parents, who were born in Orange County, experienced racism at work, in school, and restrictions on where they could live. I empathize with our students who are immigrants and the first generation to be born in the United States. I want to be their advocate.
What contributions by the Hispanic community are you most proud of?
My grandmother attended one of the Mexican elementary school in Orange County when many school districts segregated Mexican students. Therefore, I am proud of the contributions of the Mendez family and all others who joined in their fight against segregation in education. Their fight paved the way for my parents and me to have equality in education.
How has the Coast District helped you achieve your goals?
My goal was to graduate from college. With the encouragement of colleagues, supervisors, and college presidents, I was able to earn an AA, BS, MA, and Ed.D. The Coast District changed my life.
Schedule, Week of October 4
Board of Trustees
The next regular meeting will be held Wednesday, October 6, with closed session beginning at 3:45 p.m. and open session at 5:00 p.m.
Chancellor's Schedule
In the District, Monday through Friday
publicaffairs@cccd.edu