Weekly News Brief | November 19, 2021
From the Office of Chancellor John Weispfenning, Ph.D.

Next week, we officially enter the holiday season. With Thanksgiving Break on Thursday, November 25, and Friday, November 26, the News Brief will take a brief hiatus – returning Friday, December 3.
Counterintuitively, the year often picks up speed around November and December. There is a late push on those final priorities for the calendar year. The close of the academic term and preparation for spring adds to the holiday rush for many faculty and staff. Several of our students are likewise finishing papers and projects, or studying for exams.
I hope, among this buzz of energy, that you have time to enjoy quality time with friends and family. These past two years have hopefully reminded us that work is not always the priority. Sometimes, we need to disconnect, unplug, turn on out-of-office messages, and turn off email notifications. We should be thankful for this time away, because it's important to mental health and also because it restores us for the new year.
May you and your families remain healthy and safe as you share – with due precaution – in an abundance of joy with loved ones.
An early Happy Thanksgiving to all!
Be well,
John
John Weispfenning, Ph.D.
Chancellor
---
COVID-19 Question and Answer Highlight
How do I prove my vaccination status or request exemption?
The Coast District provides a COVID-19 Vaccination Proof Form and COVID-19 Exemption Request Form for employees. The verification process for students is in development. If you do not have access to the vaccine information card you were given at the time of your COVID-19 vaccination, the CDPH has created a Digital COVID-19 Vaccine Record portal where you can get a digital copy of your COVID-19 vaccination record.
Additional questions and answers are available here.
Report from the Board of Trustees

On Wednesday, November 17, the Board of Trustees met in regular session and conducted a public hearing on the Initial Negotiation Proposal from Coast Community College District to Coast Federation of Classified Employees (CFCE). The Board also received the Vision 2030 Facilities Master Plan, setting out a future course for maintenance and replacement projects consistent with the Coast District's mission and regional needs. This plan builds on the dramatic revitalization made possible by the Measure M community bond program.
Trustees heard multiple reports on the status of districtwide programs and initiatives. Vice Chancellor Marco Baeza presented an update on the Diversity, Equity, and Inclusion efforts following HEDS survey results and subsequent group dialogues. Coastline, Golden West, and Orange Coast have each committed to specific next steps. Vice Chancellor Andreea Serban presented an update on Guided Pathways, including a detailed report of activities on all three Colleges. The Colleges have worked to create new opportunities for students to connect with needed offerings – as the District continues to expand educational partnerships. Dean of Counseling Renée DeLong presented on Orange Coast's Transfer Center (TC) and Transfer Opportunity Program (TOP). TC/TOP is celebrating its 30th anniversary, including 1,429 students tracked across 24 cohorts (through 2014) with a 62.3 percent transfer rate. Orange Coast College has been named 2021 Equity Champion of Higher Education by the Campaign for College Opportunity for exemplary work in awarding Associate Degrees for Transfer (ADT) to Latinx students.
Further, District Chief of Police Jon Arnold – alongside fellow directors of public safety – presented the Annual Clery Report on Crime and Safety. In particular, Orange Coast has taken steps to decrease the number of alcohol and drug violations that were reported at the residence hall. Trustees ratified the report. The Board also received the Unfunded Retiree Liability Annual Report and accepted the Independent Auditor's Report and Financial Statement for FY 2020-21. Lastly, Trustees received and reviewed documents related to progress on stated Board goals, considering districtwide faculty, staff, and management feedback within its self-evaluation.
The Board adjourned in memory of IT Infrastructure Analyst Greg Hyska with deepest condolences to districtwide colleagues and the entire Hyska family.
College News
COASTLINE COLLEGE

Coastline is holding a student design contest for their beach towels that will be sold on their online shop, The Pier. 1st, 2nd, and 3rd place winners will receive cash prizes. Designs will need to be submitted by Tuesday, November 30th (11:59pm PST). Winners will be announced by Monday, December 6th.

GOLDEN WEST COLLEGE

The OC Health Care Agency will be hosting a weekly mobile vaccination POD at Golden West College Student Union. No appointment is necessary. To pre-register and/or schedule an appointment or for more information, please visit Othena.com or call (714) 834-2000.

ORANGE COAST COLLEGE

Orange Coast College's marketing and public relations department won 13 Medallion Awards at the National Council of Marketing and Public Relations District 6 and 7 virtual conference and awards ceremony on November 9. Medallion Awards recognize outstanding achievement in communications among U.S. community and technical colleges. District 6 includes Arizona, California, Hawaii, Nevada, Utah, and areas around Guam. OCC was recognized with gold awards for the OCC Instagram social media page, a large interior "selfie wall" display, an Honors Night website design, and for the electronic version of the 2020 OCC Annual Report.
Celebrating Native American Heritage

The Coast District is proud to celebrate the contributions of Native American leaders districtwide. Leadership is demonstrated in multiple ways by students, faculty, classified and confidential staff, and management.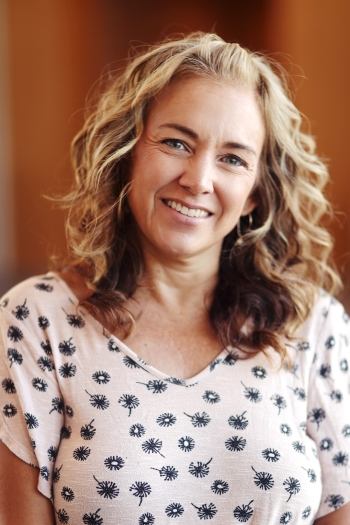 Culture and Traditions of Family
Today's words of recognition are from Staci Stangarone, Coast District Recruitment Coordinator.
What does Native American Heritage Month mean to you?
I was adopted so I did not find out about my heritage until I was in my 30s when my birth mom found me. My brother is on the tribal council for our tribe and speaks the language. My family does subsistence fishing every summer like our forefathers did.
How has your heritage shaped the person you are today?
I am a part of something very special. In Alaska, tribal cultures and traditions are alive and well.
Does your family have traditions that are especially important to you?
Yes, subsistence fishing and other potlatches that my tribe performs. There are many that I have not experienced yet, but my name is on land that the government gave my grandfather. My brother has been instrumental in keeping our traditions going.
---
The Coast Community College District acknowledges the Kizh (pronounced keech) tribe and their land, on which our Colleges and District Office are located. The name Kizh comes from the dome-like dwellings they lived in, primarily along rivers. The Kizh tribe was one of two California tribes who mastered boat-building and traveled along the coast of Southern California.
Schedule

Chancellor's Schedule, Week of November 22
Dr. Baeza, acting chancellor, Monday through Wednesday
Thanksgiving Break, Thursday and Friday

Chancellor's Schedule, Week of November 29
Dr. Baeza, acting chancellor on Monday
Dr. Weispfenning, in the District, Tuesday through Friday

publicaffairs@cccd.edu