Weekly News Brief | December 17, 2021
From the Office of Chancellor John Weispfenning, Ph.D.
The Coast District, Coastline College, Golden West College, and Orange Coast College will close for winter break in celebration of the holidays from December 20, 2021, through January 2, 2022. May you have a safe, healthy, and joyous holiday with friends and loved ones.
---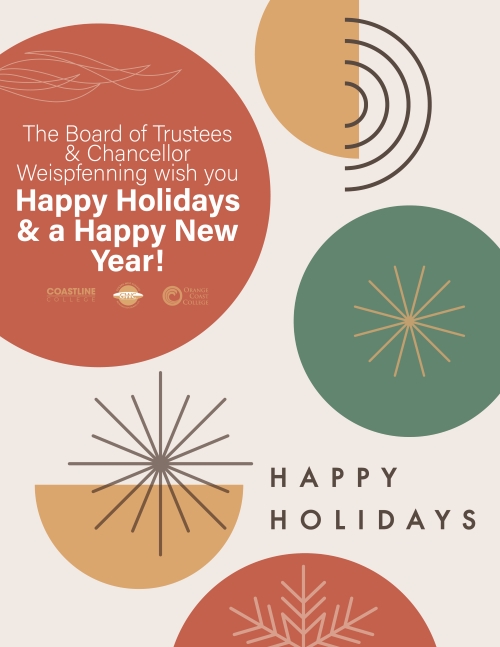 College News
COASTLINE COLLEGE

Coastline College is offering a new Esports online English course. This free course will go over the history, current trends, and future of Esports. Also, students will be able to develop professional writing skills specific to this fast-growing industry and gain insider information from some of Esports top industry professionals.

GOLDEN WEST COLLEGE

Golden West College's Teacher of the Year for 2021-22 is MaryLynne LaMantia of the Biology department. MaryLynne has been serving GWC for over 23 years. She participates in multiple STEM and college outreach activities, is the chair of the Tenure Committee, and is a longstanding member and champion of IPD. MaryLynne is highly esteemed by both her colleagues and students. Congrats!

ORANGE COAST COLLEGE

Orange Coast College's School of Photography has received a $450,000 grant from the William, Jeff and Jennifer Gross Family Foundation. The donation will be used to establish the Jeff Gross Photography Endowment and will help fund the purchase and repair of photography equipment for students, as well as pay for advanced photography students to serve as tutors for their entry-level peers.
Schedule, Week of January 3

Chancellor's Schedule
Dr. Weispfenning is in the District, Tuesday through Friday
Dr. Baeza is acting chancellor, Monday
The Weekly News Brief will resume on January 7.
publicaffairs@cccd.edu