Weekly News Brief | April 22, 2022
From the Office of Chancellor John Weispfenning, Ph.D.

As was announced yesterday, April 21, 2022, the Board acted to relax the vaccination and masking rules at the end of this semester on June 1, about six weeks from today. That is subject to change as new data is available, so please remain flexible as you think about that date.
It struck me in writing this message that it was exactly two years since the masking mandate was put in place. April 22, 2020, was in many ways a very different time in the course of the COVID-19 pandemic. We still hoped containment was possible. That was not to be, yet today we have vaccinations, improved medical therapies, and more knowledge about how the virus spreads.
The debate about public action or personal choice is, I think, not helpful at this time. We can, and I hope will, still take public action absent an absolute mandate. Caution is being shown in the gradual relaxation of the Coast District rules. Now it is for all of us to take on the mantle of caution in deciding when to wear masks, when to keep our distance, or perhaps when to move an activity outdoors. Boosters may continue to be needed and remain our best defense against serious disease.
I ask all of us to be considerate of those who are taking additional precautions. We do not know the full extent of a person's or their family's risk. Masking and vaccination continue to be highly effective at preventing the worst outcomes of infection, especially when combined with improved airflow and social distancing. The Board continues to recommend all of these steps. Harassment or bullying of those with health concerns will not be tolerated.
Districtwide, we have done the right things. Our vaccination rates are strong, and we have been resilient throughout this pandemic. Please continue to show the strength of compassion as we consider the needs of those around us.
Be well,
John
John Weispfenning, Ph.D.
Chancellor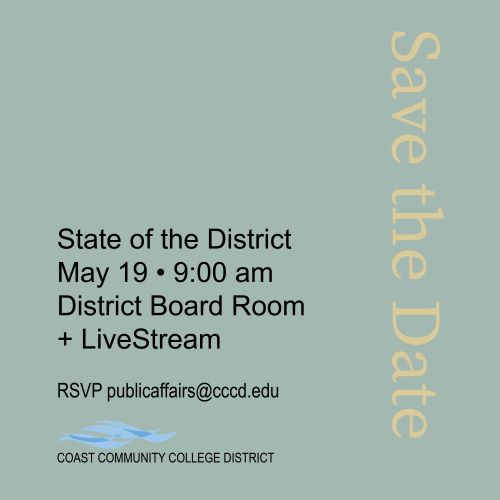 Report from the Board of Trustees

On Wednesday, April 20, the Board of Trustees met in regular session and adopted future adjustments to COVID-19 protocols. Requirements on vaccination and face covering (masking) will be relaxed as of June 1, 2022. Trustees adopted a position of strongly recommending vaccination, boosters, and indoor face coverings as continued steps for individuals to protect themselves and others. The Board made clear that harassment based on an individual's health choices would not be tolerated. The Board also committed to following developing outbreak indicators and public health guidance in the weeks prior to June 1, to be followed by further adjustments as necessary.
In a programmatic highlight, Professor and Program Coordinator Alexandra Yates presented on the OCC Food Services Management Program and Recovery Kitchen. The Recovery Kitchen gathers wholesome edible food from a variety of sources that have surpluses – an example being a professional fisher with more fish than could be sold at market. This food is properly stored to extend shelf life and then prepared to feed OCC students through the Pirates' Cove Pantry and those in need throughout the community via various partnerships. Students are engaged and taught along every step of the process, and the program is developing a model curriculum. In the past two years, the program has prepared some 350,000 meals and diverted some 780,000 pounds of food from going to waste. Trustees lauded the program and directed that program accomplishments be shared with First Lady Dr. Jill Biden and others.
In a presentation by Vice Chancellor Dunn, the Board reviewed progress on the Measure M community bond program for facilities. As of the second quarter report, some 79 percent of funds – $551 million – had been expended from the program with all remaining funds committed to various projects at all three colleges. Trustees thanked the staff of the District and the Measure M Citizens Oversight Committee for their work.
Trustees ratified the employment contract with Marlene Drinkwine as the incoming vice chancellor of finance and administrative services following Vice Chancellor Dunn's pending retirement. Drinkwine will begin at the Coast District on July 1. She currently serves as the vice president of business services at Long Beach City College.
Lastly, the Board approved a districtwide hazard mitigation plan that provides planning for a wide variety of emergencies and allows the District to compete for certain federal grants.
Trustees adjourned in memory of Dottie Duddridge, professor and founder of the OCC Dance Department.
College News
COASTLINE COLLEGE

Coastline has partnered with a non-profit organization to help support the protection and conservation of dolphins and the ocean. Coastline is proud to have adopted Johnny, one of the many dolphins that The Dolphin Project is helping to recover and release into the wild. Johnny's video can be seen here.

GOLDEN WEST COLLEGE

Golden West College students Erish Mae Araneta, Damjan Nastic and Anna Trollmann from Huntington Beach were awarded scholarships totaling over $4,000 at the Alpha Gamma Sigma (AGS) Statewide Convention this past weekend. GWC's AGS advisor, Valerie Venegas was also named one of four Outstanding Advisors of the Year by the state association. Alpha Gamma Sigma (AGS), the academic honor society and service organization of the California Community Colleges, awards merit-based scholarships to students every year who excel in academics and community service. This year, thirty-five student members of AGS received scholarships totaling over $35,000. Araneta received the Randy Taylor Award, the highest award given for outstanding service to their chapters, campuses, and communities. Nastic received the Kathleen D. Loly Scholarship Award, recognizing outstanding scholars in academic excellence, and Trollmann received the Tom Jackson Award for academic excellence with outstanding service and leadership to their chapters, campuses, and communities.

ORANGE COAST COLLEGE

OCC's Friends of the Library Spring Book Sale is set for next week from April 26 to April 27. Stop by the OCC Library between 9:00 am and 3:00 pm. Most books will sell for just $1.






publicaffairs@cccd.edu