Weekly News Brief | April 29, 2022
From the Office of Chancellor John Weispfenning, Ph.D.

Last week, the Coast Community College District Foundation met and approved 10 Faculty Funding Opportunity Grant applications. FFOG recipients and descriptions of their projects are below.
In my very nearly six years in the District, I have seen ever increasing innovation and creativity in the proposals put forward. This year included many exemplars of the ways Coast District faculty are leveraging the resources available to make the student experience better.
Each of the awardees described how the activity or project made a difference for our students. What I am particularly pleased to see was how students are being invited into the process of creation, whether it is creation of scholarly work, art, or communities. Others focused on giving students new learning tools and reducing student costs in the process.
I know these are only a few of the many amazing faculty projects currently underway. As evidence of this, we received 30 excellent applications for the 10 awards available. I want to thank all our applicants and the entire faculty for creating new opportunities for students.
Lastly, my thanks to the District Foundation's volunteer board of community leaders, particularly to those who served on the selection committee. Reviewing grant applications involves a significant investment of time, and I can attest to the diligent thoughtfulness of the review.
Be well,
John
John Weispfenning, Ph.D.
Chancellor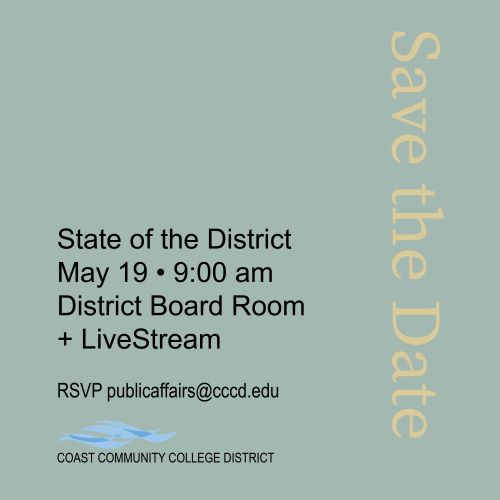 District and College News
The Coast Community College District Foundation thanks and congratulates the recipients Faculty Funding Opportunity Grant for 2022.



Erik Bender, Orange Coast College: Applied learning student laboratory experiments using lunar and Martian regolith stimulant to simulate the growth of plants off-world


Marilyn Brock, Coastline College: Content production and digital distribution of the Nzuri Journal, featuring stories of the African and African American diaspora experience and legacy


Ocean Callum, Coastline College: Content production and digital distribution of StoryLine, featuring student artwork and compositions, with students engaged in the production and editing of the magazine


Keisha Cosand, Golden West College: Creation of original, ZCT/OER (zero cost online educational resource) grammar and style workshop series for English 100 and 110 course levels – these materials will be shared with English instructors and learning centers throughout the CCC district


David Giordano, Golden West College: Creation of an Online Learning Portal to allow students convenient 24-hour digital access to Java coding practice problems, with instantaneous feedback


Mark Hamamura, Orange Coast College: Research and development of a course titled "Science and Technology in Music" to leverage for a broader exploration of the connection between the arts and STEM – with possible instructional application of "STEAM" across numerous topics


Alan Lovegreen, Orange Coast College: Student-engaged study of historical records documenting the evolving architecture design of buildings at Orange Coast College and Golden West College, to be leveraged for student journalism and classroom instruction


Courtney Nix, Orange Coast College: Development of student wellness programs, courses, and lecture materials exploring fitness, exercise, and healthy habits – a portion of the funds to be used to purchase gift cards as incentives for student participation


Katie Ottoson, Orange Coast College: Completion of the Academy Certified Resume Writing program and development of a new resume workshop (and digital resume templates) that will teach students how to create resumes that will stand out in an increasingly automated hiring process, including ATS-friendly, infographic, and virtual resumes


Nicole Perrine, Coastline College: Completion of Myer-Briggs Type Indicator Certification needed for the application and interpretation of the personality assessment tool in student support offered by the Coastline College Counseling Department



COASTLINE COLLEGE

Coastline College's newest art exhibition, Intimate Objects | Essential Images, is running now through May 14. The exhibition includes painting, sculpture, and collage highlights of an intimate connection with art and each other. You can view this show in the Art Gallery Tuesday–Thursday from 12 p.m.–5 p.m.

GOLDEN WEST COLLEGE

Golden West College is celebrating Ana Acosta Zambrano in a post on Instagram. As a GWC Noncredit Citizenship Prep student, Zambrano has successfully passed the naturalization interview. GWC is proud to offer preparation for the U.S. citizenship exam as part of its adult education program.

ORANGE COAST COLLEGE

Orange Coast College has been named a 2022 "Champion for Excelling in Equitable Course Placement in Black Math Enrollment" by the Campaign for College Opportunity. OCC is being recognized for supporting 100 percent of black students to enroll directly into transfer-level math coursework. OCC will be recognized at the organization's inaugural award installation ceremony, set for May 12.
Schedule

Chancellor's Schedule, Week of May 2
Dr. Weispfenning is in the District, Tuesday through Friday
Dr. Dunn is acting chancellor, Monday

Board of Trustees
The next regular meeting will be held Wednesday, May 4, with closed session beginning at 4:00 p.m. and open session at 5:00 p.m.
publicaffairs@cccd.edu